Naviate Simple BIM is out with a new look and feel. It's a major overhaul making Simple BIM more pleasing to the eye and easier to use. The 3D window now supports multi-colour objects, grid lines, 2D annotations, edge visualisation, in addition to a new measurement tool. We also added a left mouse button based Viewer navigation mode, without loosing our signature 3D drag and drop functionality! Creating object groups with complex AND/OR rules and expressions is now possible from the user interface and quantity calculation has been vastly improved based on feedback from previous version. We hope you will enjoy this new major milestone in our continuous development of Naviate Simple BIM.
Want to see it in action? Take a look at the recorded webinar here:
New look and feel
Over the years Naviate Simple BIM has been getting a lot of added functionality without paying too much attention to how everything looked. Now it was finally time to give Simple BIM a more professional look that makes justice to it's power. Not just to make things look nice, but also to make using Simple BIM easier and more logical. All icons have been re-designed, there is a new colour palette, and the layout of different palettes has been synchronised.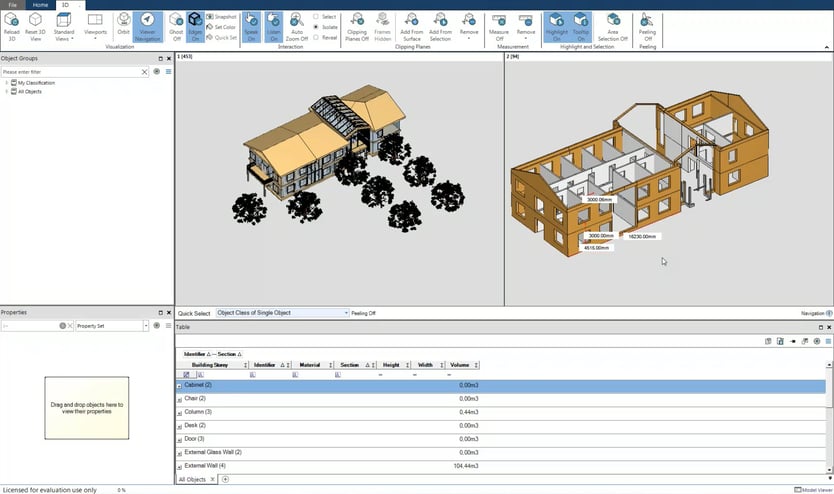 Support for multi-colour objects
Finally you can now display multi-colour objects in 3D and export them correctly back to IFC. Multiple colours are even supported in the model splitting tool. When you split a multi-colour object, the resulting parts correctly maintain all their colours!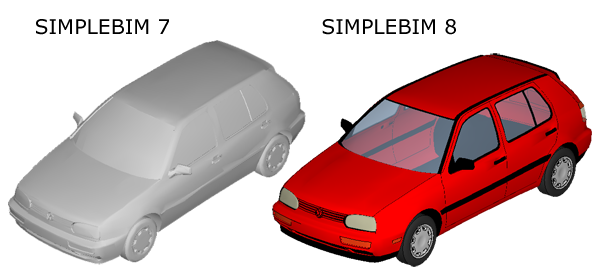 Support for grids and 2D annotations
You can now import, display and export grid lines. Further, you can import, display and export the 2D geometry representation of IFC objects.
3D navigation and visualisation improvements
In the past Simple BIM has used a non-standard mouse navigation, because the left mouse button was reserved for the signature drag and drop from the 3D window. Now however, there's an added Viewer Navigation mode, in which you rotate the model with the left mouse button like in most applications. If you keep the left button pressed for a while, the drag and drop will be initiated instead of rotating the model. For those who have become accustomed with the old right mouse button navigation we preserved the Simple BIM navigation mode as an option. There's also an added an option for visualising the edges of 3D objects to enhance the visual clarity.
New measure tool
The 3D window now has a tool you can use for measuring the distance between two arbitrary points, lines or planes.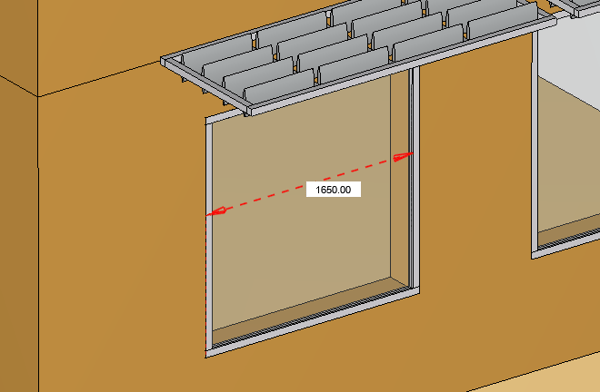 Improved work-space configuration
In previous releases we have gradually improved the ability to configure and store work-space and this continues to be a priority for us. It is out goal that you can create the ultimate BIM experience for any use case by combining simple data with a simple user interface. In the past you might have struggled a bit to know which settings get stored with the work-space and which not. Finally the configuration is unified, i.e. the settings that get stored and restored, in each palette in a separate menu. There's also improvements in the ability to hide unnecessary data and elements from the various palettes. These include isolating sections of the objects palette and isolating property sets in the properties palette.
Improved quantity calculation
One of the strengths of Simple BIM is the ability to calculate quantities from the geometry of objects. This is useful if the original IFC model does not have quantities, you don't trust the quantities in the model or you want a 'second opinion' and compare the quantities in the model with the ones calculated by Simple BIM. Now we have added shadow area calculations, which produce more reliable results for example for complex slabs. You can now also calculate quantities for containers (like curtain walls) and doors and windows have both dimensions for the object itself and the opening they are placed in.
Creating rule based groups from the user interface
In the past you could create rule based groups only from templates. Now you can do this from the user interface by adding/editing a group from the Objects palette. Rule based groups now support complex AND/OR rules and even expressions. There are very few limitations to what kind of groups you can create.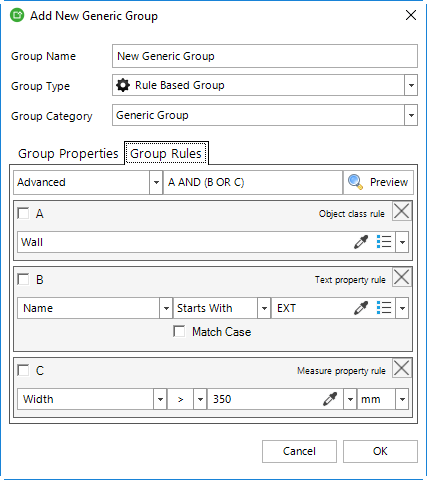 Improved rule creation from templates
You can now use 'auto groups' to create a separate group for each unique value of a property in the model. You can for example create a group for each wall type with just one row in the template. It is also possible to create hierarchies of groups, i.e. assign parent groups and to assign groups to categories in the same row on which they are created.

Some other improvements added
Improved startup view with template filtering
Faster model splitting
Faster model merge
More reliable release of network licenses
Improved table palette
Want to know more?