Naviate Accelerate is a companion to Revit, helping you automate tasks that must be done manually in Revit. While Revit is a comprehensive and powerful tool, it is time consuming to sort through and manually adjust hundreds (or even thousands) of variables.
In this blog post we're going to show you three ways that Naviate Accelerate can help you speed up design and development in Revit.
Naviate Accelerate helps you with optimizing workflows: doing things like generating a door schedule or to generating a drawing to show a client — while still ensuring all the information is included by following BIM protocols. In short, Accelerate helps you do things faster in Revit by automating some of those manual and tedious tasks that you don't enjoy doing.
Let's take a closer look at three features in Naviate Accelerate that will save you time and enhance your current BIM processes.
Edit Parameters
Sometimes you need to edit the data on the back end of your designs. And if you need to edit multiple things, or a whole row of things, doing so in Revit can take a while. With Accelerate, you can edit parameter values in a table form, which is much easier than selecting and modifying individual cells. You can view and edit schedules, sort your list and copy/paste values. You can also import and export data to/from Excel if you'd rather edit information that way.
Edit parameters can also help you catch things that the naked eye might not see — like if, for example, a window or door is slightly out of line. In plain Revit, when looking at a drawing, you might not be able to notice that something is out of alignment. But if you look at the parameters, you can instantly see that the numbers don't match up — and you can fix the parameters with one click.
But the real greatness of Edit Parameters comes during the handover process. When you're ready to publish or export, the Project Manager can easily review the information to check if everything is complete. If not, all you must do is click on the cell to add the missing information.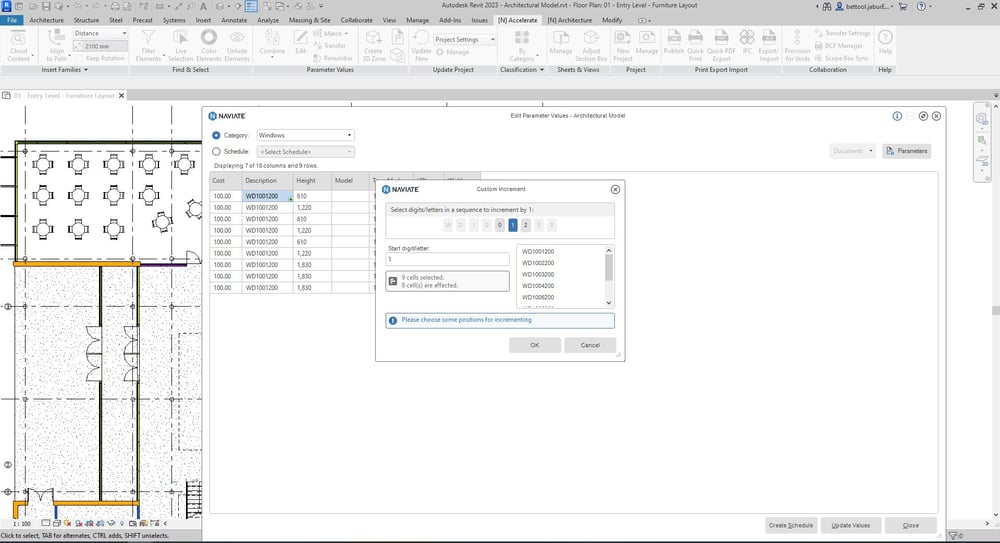 Color Elements
Adding colour to your design isn't just pleasing to the eye: it's a great way to filter and classify data in your design. With Naviate Accelerate, you can colour any category by type or instance parameter values.
So, for example, if you want all windows of a certain width marked in a specific colour, you can do that with colour elements. This makes your drawings easier to understand visually. It also helps you see if things are out of whack with the rest of the design. And on the back end, as a project manager, you can see which elements have been assigned values and which haven't.
You can also create multiple filters based on your selection criteria; your filters will override current view template. You can colour parameters related to anything, from sizing to placement to grading or any other variable applied to that element.
Watch the video below to learn more about the Color Elements tool:
Publish Sheets
The Publish Sheets function makes it easy to generate and publish sheets in a variety of formats — with one click. This is something that can take a very long time in Revit because you must publish each sheet and format manually — but with Naviate Accelerate, you can choose not only which sheet to create but also which format(s) to create it in. This makes collaboration easier because you can create sheets in whatever format your colleagues are using.
If you want to focus on one specific block, you can generate a sheet for just that block to be exported.
Naviate Accelerate supports the following formats:
Rather than exporting to DWG then converting it to another format, like IFC, you can just export it to IFC at the same time. Yet another way Naviate Accelerate saves you time.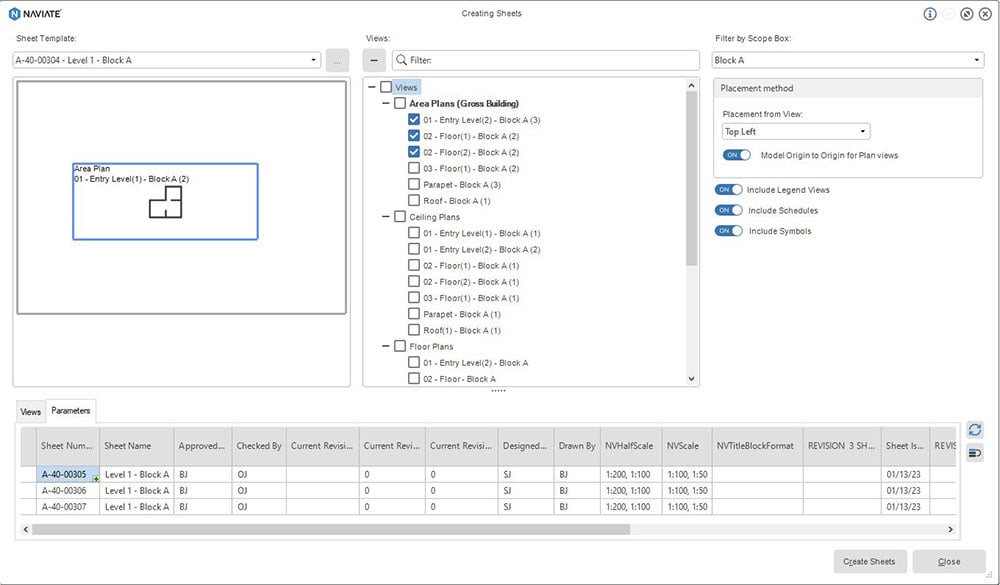 There you have it: three great features in Naviate Accelerate that help you speed up tedious tasks, deliver an excellent final product, and grant you more time to spend on the work you really enjoy.

Give it a try for yourself! Download a free, 30-day trial of Naviate Accelerate by clicking here.