By preconfiguring functions in Naviate already in your template, you can save a lot of time for yourself and your colleagues. In this example, we will set up a configuration for Naviate Publish in the Revit template. So that anyone who uses the template for a new project can get started right away with publish.
What is Publish
Publish is the feature you use to print your sheets and export to DWG, NWC, PDF and IFC files using Naviate for Revit.
How Publish works
The main window of Publish shows you an overview of the settings. You can create and save a publish setting for easy reuse later. You can also define common files save folder for all configurations in one setting by enabling toggle button and defining save folder.
With Publish you can
Use Revit's internal print and export settings, enabling you to print and export the same way you would normally export from Revit
Configure how files will be named using parameters and prefix and suffix values for print and dwg export, and editing name at IFC export
Add any number of print or export settings in one configuration, for example add multiple print settings for different scales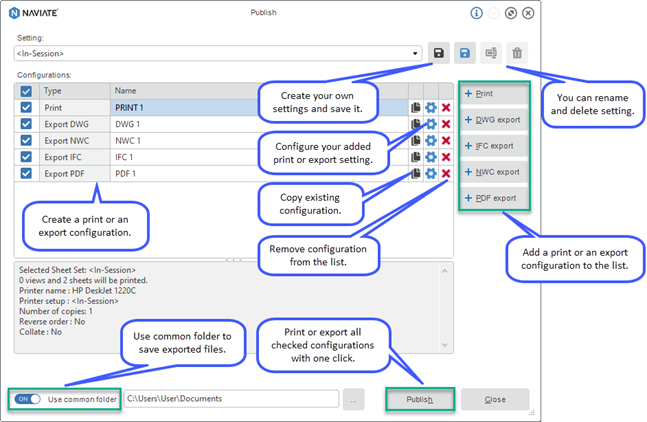 Want to learn more about Publish? Have a look at this blog post Why is Publish a top 10 feature in Naviate Accelerate for Revit?
How to pre-configure Naviate Publish
Now that you know what Naviate Publish is, let's start to configure different settings in a Template. In the Template you use, there will most likely already be preconfigured settings for all the exports you make from your projects. So, all settings for Print and Exports are first configured in the Revit Template.
When this is done, start creating Settings in Publish for things that you do most often in your company projects. This can, for example, be a setting for exporting 3D models. Setting for printing drawings, etc. When the settings are saved in Publish, save the template, and use it in future projects. Keep in mind that you may need to change the folder location on Configurations: in the new project or use the Use common folder setting.
TIP: If you want to use a configuration in Naviate that you have done in one project in another project. Then open both projects simultaneously and use Naviate Transfer Settings to transfer settings in Naviate from one project to another.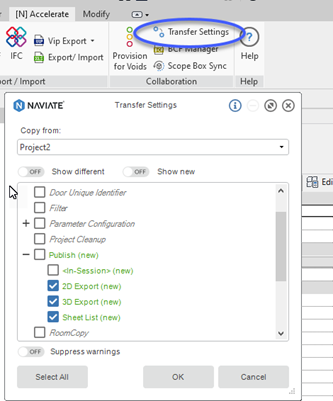 Want to know more?