Today almost all Revit users can rely on using Revit throughout every stage of a new construction project. But when you suddenly are confronted with using Revit for renovation work, you start to think once or twice if it is achievable in your software.
Traditionally you might have used several different approaches to solve your renovation and rebuilding project. Why not just do all the work in Revit and one model.
Modelling strategies
In this blog post I will go through the best practice of modelling strategies for renovation and remodelling projects.
Phase created – phase demolished
Walls
Doors
Windows
Wall openings
Fill pattern
Rooms
Temporary elements
Groups
Schedules
Working with multiple phases
1. Phase Created – phase demolished
The most important settings of all are the phases. You need to make sure all elements are sorted correctly into:
Phase created
Phase demolished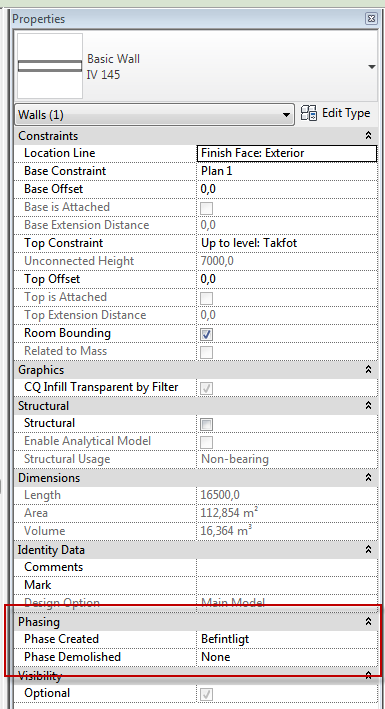 The active view controls what phase the project is created in. If it is created in a view with new as phase parameter value it will inherit the same value. If an element is demolished by demolish tool (modify tab -> geometry panel -> demolish) in the same view with the new as phase parameter value, the phase demolished value will be new.

This can of course be edited afterwards from properties panel. Elements can also be demolished by editing its parameters. The phase property is not copied when the element is copied. If an element with V as phase property value is copied in a view with new as phase, the copy will revert to the phase property value of the view (in this example new).
2. Walls
For load-bearing walls the property named structural should have yes as value (the box must be checked). This property will be used for assigning elements to correct layer when exported to DWG. There is also a filter to assign thicker lines to structural walls.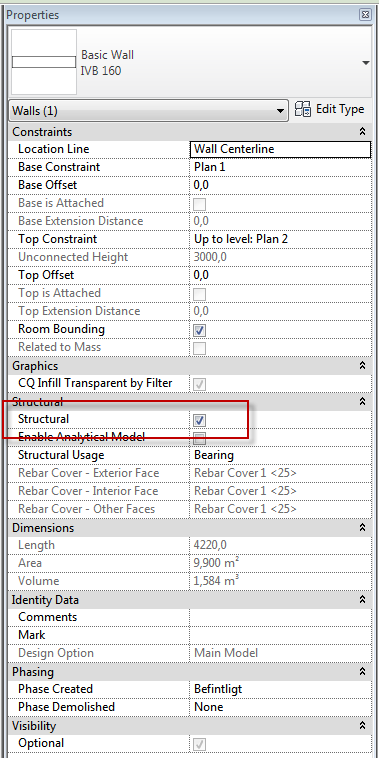 3. Doors
Our Naviate families include two door families adapted for this type of projects. They include parameters for managing the swing angle and openings surface pattern.
Rebuilding double door.rfa
Rebuilding single door.rfa
If you're interested in reading more on doors, we have a document describing how to create similar door families by editing other door families, you can find it here.
4. Windows
Naviate does not include special remodelling windows, the intent is to use a process like creating doors for remodelling (more info here) and replace the openings by:
Rebuilding new opening.rfa
This family also includes surface patterns around the opening.
5. Wall openings
Wall openings can be created using various methods depending on the desired results.
Component openings
Component openings are created by loadable families, inserted by door, window and component tools. The phase property of the inserts (door or window opening) can differ from the walls phase. If different phase property values are assigned to host and insert, an infill element will be created. This cannot be deleted or edited separately for changing phase property value. The infill element creates a graphic issue in the views where both new and demolished objects are visible, because it acts like a representation of the demolished opening.
The same things happen with new opening, the infill element will superimpose itself on the new opening. The easiest workaround is making this infill element invisible by altering transparency value. Locate the infill elements and check the box for CQ infill transparent by filter parameter on parameters palette then apply the Naviate view filter CQ infill.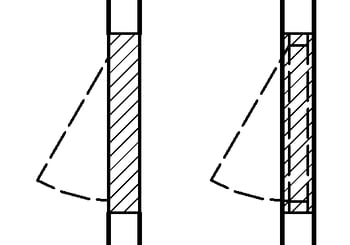 Wall openings
Wall openings work different than loadable families. They don't have their own phase properties but acquire instead the host's phase property value. The advantage is that is not available for component opening, but that a door can be added in the opening. This can be useful when a door or a frame is demolished without filling in the hole. In that case, a wall opening is created with the door that will be demolished inside it. When the door is demolished, the opening will remain.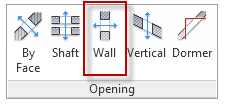 6. Fill pattern
The fill patterns showing repairs and altering are 2D detail components. Use the:
This is a 100 % 2D family that are visible only in the views they are created in.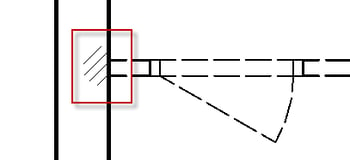 7. Rooms
Rooms handle phases differently to avoid the confusion when assigning different phases to room bounding elements. One room has one phase value. For each phase a room must be created or copied. That creates unique room objects in each phase, with no connection to identical rooms in other phases.
Note! Demolished walls are not room bounding.
There is an issue with demolish views, when the visible rooms in views in demolished phase are the future rooms. Normally existing rooms should be visible in demolished views instead. A simple workaround is to create room views with only rooms and room tags visible and overlay them on the demolished views on sheets. The same issue can be done when you export to DWG. Export separate views, the room views for different phases and the demolished views for everything other than rooms.
8. Temporary elements
Temporary elements have the same property value for phase created and phase demolished.
9. Groups
Groups do not have phase parameters. The object contained in the group can have different phase property values that can be different in other instances of the same group. This make it very important to be very careful in working with groups and phases in the simultaneously.
Note!
Do not create groups with mixed phase assignment for elements in the same group
Never group rooms or add them to groups
Do not add wall opening to groups
10. Schedules
Schedules have phase properties just like all other views; both phase and phase filter. In Naviate template there are two phase filter intended to be used for schedules:
Endast rives (Swedish version)
Endast nybyggnad (Swedish version)
This creates schedules that are automatically filtered with elements in specific phases.
11. Working with multiple phases
Existing and new are already created in Naviate template. Phases are associated with the project timeline. Revit allows working with multiple phases in remodelling and renovation projects. Extra phases can be added as needed in a chronological order according to the project's plan. For example, new phase can be divided into multiple phases: phase 1, phase 2, etc. View phase and phase filters manage what is visible and what is not. Demolished and temporary elements from previous phases are hidden, as well as elements from future phases.
If we consider a view showing phase 2 new divided into three phases; 1, 2 and 3 in this case, both existing and phase 1 are classified as existing and elements from phase 3 forward are not visible. Demolished elements in phase 1 are not visible as well. The bottom line is, whether you have existing, new and demolished, or if you divide phases into partial phases, they behave like independent phase when it comes to view properties phase and phase filter.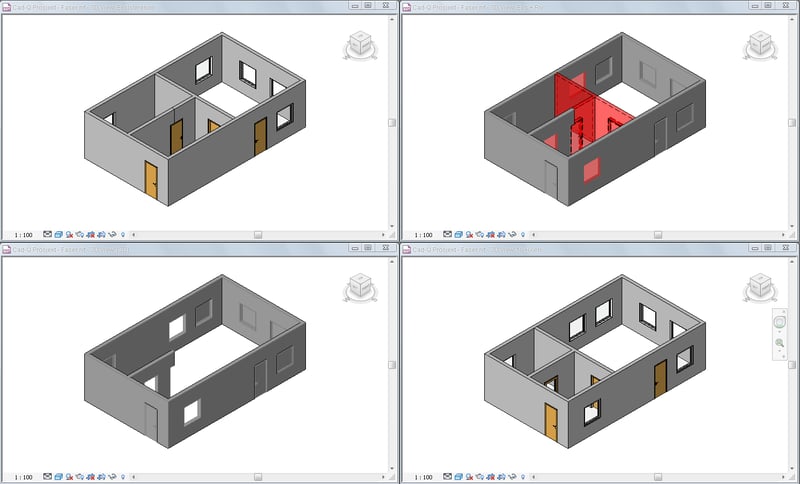 Want to know more?
By having all of the work in Revit and in one model, you will collaborate better with your colleagues and maintain your company standards, while you will improve your productivity. After all, for most companies, renovation and remodelling projects account for the majority of the workload.
For more details, check out the article "How to manage doors in renovation and refurbishing projects" here.
Download a free trial and test out today
Any topics you would like us to cover? Leave a comment below, and will add it to our list!