Today I want to share with you our new visualisation feature in Naviate Daylight, that will provide you with a much more detailed insight into yours building daylight performance.
Initially, our first visualisation feature was a 3D pop-up dialog which provided you with the basic functionalities. You could only view heatmap and DF point-value visualisations in a simplified 3D representation of your building. The possibility to report the visualisation in an appropriate manner or make additional modifications to how the visualisation should represent the daylight simulation was not included.
Now however, right after you have done the daylight factor analysis with Naviate Daylight when you run the visualisation tool Daylight will automatically create new and improved daylight heatmap visualisations for all selected Rooms directly in floor plan views!
This new visualisation methodology will enable you to interact with the daylight simulation results much more and thus generate very detailed daylight performance reports.
Here are some new possibilities
Modify colour mapping settings based on regulation requirements
This new functionality enables you to define the colour mapping settings of your heatmap visualisation. So now you can configure the colour representations for specific daylight factor thresholds, define the style of the heatmap – show as gradient, range or point values. You can also create and save different colour mapping styles for yourself and use them to show and highlight different aspects if the buildings daylight performance. We also provide you with some pre-define regulation-specific colour mapping styles.

Place heatmap views on Sheets
The visualisation is created and placed directly on a Revit floor plan view. This will give you the possibility to place your heatmap plan views on Sheets and attach them to your report material.

Place heatmap views in Word Report
Something you perhaps didn't know is that you can generate a report too. This will generate a Word document with all the daylight performance results Naviate Daylight provided you with. Quite great, wouldn't you say?
The only thing you need to do after generating the report is to create images of your heatmap floor plans and place them in the report. (Some day we will do this automatically for you!) The report by its own is quite extensive and provides a lot of regulations specific data and insights how your daylight results relate to the selected regulations, but now all that data can be reinforced with the new visualisation!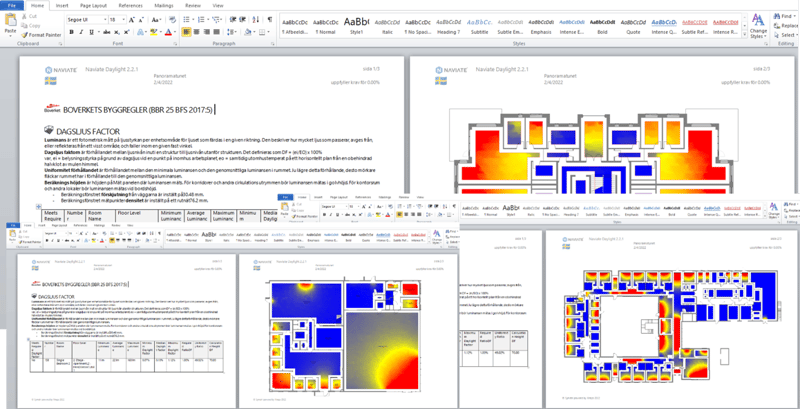 Show, locate and highlight specific daylight factor point values
If you are calculating daylight based on Swedish regulations (Boverkets byggregler BBR 25 BFS 2017:5), then you probably will be happy to know that you can also show the DF point values.
This will enable you to
Find a point located at half the depth of the room, 0.8 m from the floor and one meter in from the darkest wall
See the points daylight factor value
Highlight it in for the views for report purposes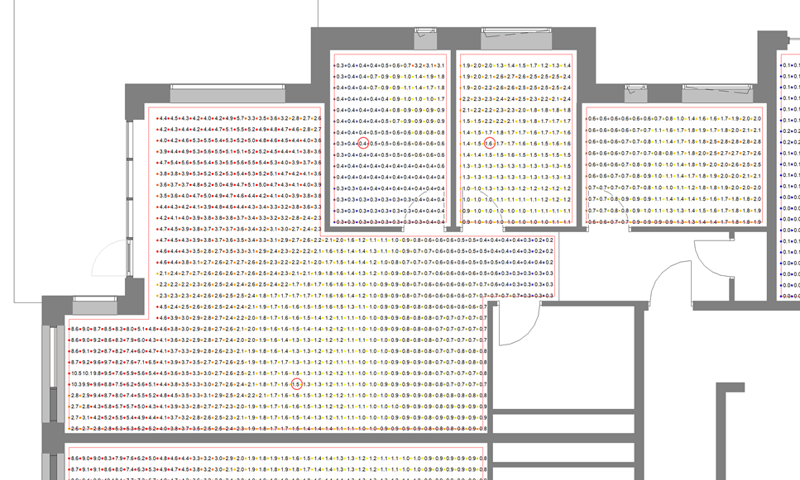 What will happen next
So, these are some of the things that you can do with the new visualisation that I wanted to highlight in this blog post. I hope you enjoyed it and found it useful.
We believe that this improvement will lift your daylight analysis workflows and make it much easier for you to document and generate reports with all the required data. Try it out and if you figured out some more things that you can do with this new feature and if you have other features or questions on how to use features you would like us to highlight, please let us know. Please share below!
Want to know more?